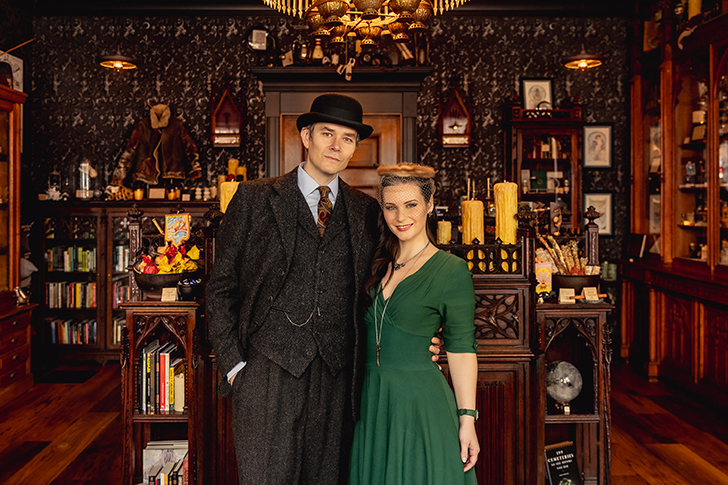 We are absolutely delighted by the kind article produced by Citybeat, and appreciate the photos by Hailey Bollinger and the writing of Sean Peters.
It is thrilling to have the opportunity to share our dream with more enthusiastic souls, particularly at this wonderful time of year when everyone remembers how great it is to believe in magic. However, it is possible that things are going to be a bit hectic in the shop as we approach All Hallows' Eve.
We admit that we never dared to hope that our little shop would be as popular as it has become. When we designed it, we expected to have one or two customers at a time, and imagined that we'd spend most of the time that we were open sitting behind the counter reading old books with well-worn bindings.
We are so happy to have been mistaken (well, except for the lost reading time), but our pleasure doesn't change the fact that there are only two of us, that the shop is shy of 700 square feet, and that much of that is taken up by looming ancient cabinets. While some of them ARE larger on the inside, one can only fold space so many times before the near ethereal plane pushes back, and no one wants that.
All of which is to say that we're still trying to figure out how to balance increasing customer interest with our unwavering commitment to make the space and the experience feel special.
For our current customers, rest assured that our goal is not and will never be to sell as much product as possible, or to get people in as out as quickly as we can. Our shop is a deeply personal space, and maintaining its intimacy is critically important to us. We want our visitors to linger over exhibits, and to be able to chat with us about ghosts, novels, and furniture. This is never going to change, and if we need to have some "by appointment" showings, we happily will.
For our new friends, we humbly ask for your patience if you arrive at the shop and there is a line, or if it takes us a while to get your order wrapped up and sealed.
This is our first Halloween open to the public, and we're happy to be learning with you. Ultimately, we're going to do whatever we need to in order to make sure that every visit to Hierophany & Hedge feels magical.